Information
The Razor Barbed Mesh Security Panel is most suitable for use in high security area like prisons, military and police camps, power stations, catchment areas-dams, reservoir, television / telecommunication control / transmission tower, gas work, oil refineries, airports, perimeter fencing along border / coast-line in isolated areas with a history of regular intrusion etc. Our product is especially relevant to security consultants and contractors involved in the building of commercial buildings housing M.N.C., official residences of state dignitary, royalty, embassies and private home of VIP. The Razor Barbed Mesh Security Panel can be manufactured using stainless steel and Mild steel (c/w Hot Dipped Galvanising) with the following specifications below.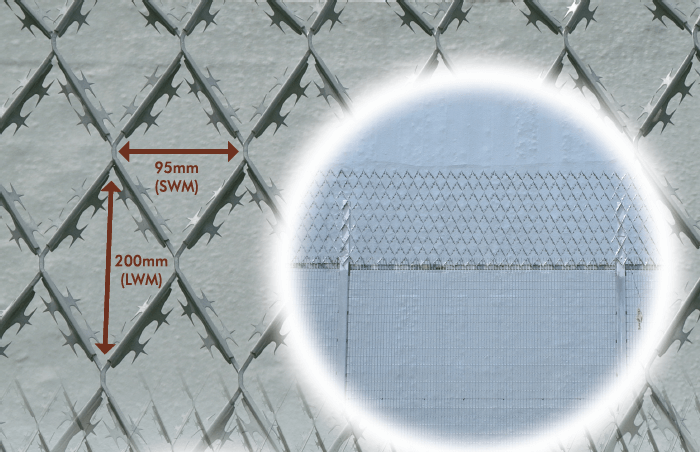 Specification
TYPE
REF.No
MESH OPENING SWM X LWM (mm)
THICKNESS
(mm) ±10%
STRAND WIDTH
(mm) ±10%
*STANDARD SHEET SIZE SWM X LWM (mm)
RBM
953530
95 X 200
3.0
3.5
3000 X 2440
Barb Thickness : 0.6 mm (GI) * Note : All sheet size can be customize according to requirement subject to production constrain.
Gallery